This article is about the book. To see the article about the group "The Mysterious Benedict Society," click here.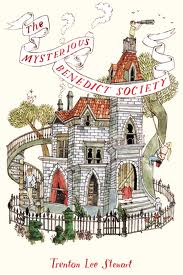 Plot summary
Edit
After seeing a newspaper article addressed to children with special gifts, eleven-year old Reynie Muldoon goes to a center where he and many other children take a written test with many strange questions relating to logic, bravery, etc. Do you like television? Reynie replied NO. Though he sometimes enjoyed it, it seemed to irritate him a bit. Then there was, Do you like the radio? Reynie replied NO without waiting. Then there was What is wrong with this statement? Reynie said that it wasn't a statement at all, but a question. A very sneaky question that only he got correct was According to the rules of chess, is this possible? To this, he replied YES. It showed one black pawn moving two steps ahead. His logic was that the white knight hopped over, the black pawn came, and the knight went back.  He is the only one in the room to pass this exam, and, after all the other children leave, he is invited to yet another center for more tests.
He goes there the next day, and meets Rhonda Kazembe, a distressed girl who lost her only pencil for the test, down the drain. She appears to have green hair and a poofy dress. Reynie offers to help her and Rhonda makes him enter it. He doesn't see a pencil anywhere, and feels scared. After what seemed like forever, Rhonda finally lets him out. Reynie breaks his pencil in half to give Rhonda to use. She says not to worry and pulls out an extra pencil for herself. Rhonda offers him the answers to the test they're about to take. Reynie refuses this, and walks into the testing area. There, he and many other children sit in separated desks, each getting a test. All of the test questions are impossibly hard Reynie notices, some of the other children even start to cry. But Reynie realizes that each of the question's answers have questions in different part of the tests that give the answers. 1-20, 2-21. up to 40 questions. Reynie realizes it is all just a big puzzle.
Because of the logic and skill he showed, Reynie together with three other children named George "Sticky" Washington, a boy with photographic memory, Kate Wetherall, a resourceful and agile girl, and Constance Contraire, a stubborn little girl who likes to recite couplets, is later invited to the home of Mr. Nicholas Benedict, who presents them all with a task to do. He tells them that by using subliminal messaging hidden in television a man named as the "Sender" can make people believe such things. One example of a hidden message is "The missing aren't missing, they've only departed". Benedict tells them that the one sending these messages is a Mr. Curtain, the principal of L.I.V.E. institute: a school on an island off the coast of their city of Stonetown.
Inside the Institute the children see strange people. The lessons are otherwise repetitive.Communicating with Mr. Benedict via Morse Code, the children uncover the hideous plan of Mr. Curtain, to control the people of the world and imprison his enemies.
The children manage to stall Mr. Curtain's plan, allowing Mr. Benedict to shut down the Whisperer, Mr. Curtain's machine which allows him to transmit the hidden messages. Though Mr. Curtain is still at large, the children share a party together with Constance, who is celebrating her birthday.
Characters
Edit
Supporting characters
Edit
Two sequels (the second and third books in the series) were published in 2008 and 2009: The Mysterious Benedict Society and the Perilous Journey and The Mysterious Benedict Society and the Prisoner's Dilemma.