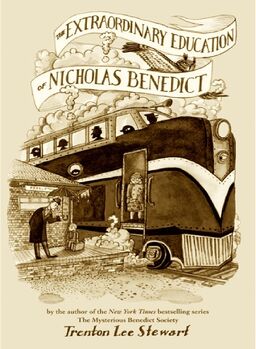 The Extraordinary Education of Nicholas Benedict is the fourth book in the Mysterious Benedict Society series, and a prequel to the other three.
Nine-year-old Nicholas Benedict has been going from orphanage to orphanage his entire life. As the story opens, Nicholas is arriving at the Pebbleton train station in order to transfer to yet another orphanage, Rothschild's End. He meets the director, Mr. Collum, and they are driven to the orphanage by the quiet, safety-conscious Mr. Pileus. Due to Nicholas's narcolepsy, he falls asleep in the car, and when he awakens, he is at Rothschild's End, and is greeted by a serious older boy named John. When they get to Nicholas's room he falls asleep. When he wakes up, he is greeted by a boy named John Cole. He is a good guy.
Ad blocker interference detected!
Wikia is a free-to-use site that makes money from advertising. We have a modified experience for viewers using ad blockers

Wikia is not accessible if you've made further modifications. Remove the custom ad blocker rule(s) and the page will load as expected.