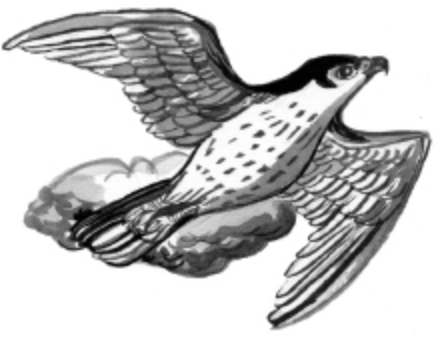 Madge is
Kate Wetherall's
falcon. Her full name is "Her Majesty The Queen," shortened to "Madge."
==
History == Madge became Kate Wetherall's falcon sometime between The Mysterious Benedict Society and The Mysterious Benedict Society and the Perilous Journey after Milligan approved of her joining the Wetheralls at their farm.
Her falconer, Kate, acquired her license to handle birds of prey when she was in the circus after she was trained by a falconer, although his/her name was never revealed.
Madge made her first appearance in The Mysterious Benedict Society and the Perilous Journey when she is seen flying around Kate Wetherall's farm by Reynie. Throughout the book, she is feared by most people due to her sharp talons and dangerous look. Reynie only managed to stroke her feathers after Kate insisted that he did. Madge followed Kate, and later was snuck into the M/V Shortcut in order to be with her. In the end of the second book, she plays a very important part when she delivers a message from Cannonball to the Society with which Reynie asks the captain to ground the ship to save them.
Madge is often seen flying and following the Society, or specifically, Kate Wetherall.
Kate often feeds Madge strips of meat that she carries in her bucket.
Kate uses a whistle to call Madge.